95 Cartoons on Bosses
In an organization, every aspect of boss relations is difficult.
Cartoons that are funny, but not mean, can help people laugh at our boss' foibles...and our own.

Our Most Popular Boss Cartoons:

Boss Cartoons 1
Boss Cartoons 2
Boss Cartoons 3
"GRANTLAND is great for company newsletters. Gets points across for safety,
fun items, and digs at management." Leslie Smith, Mycro-Tek


See our Boss Cartoons in a 1-panel format: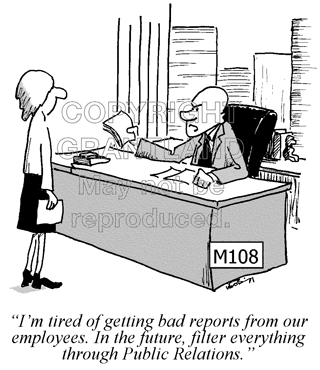 More Boss Cartoon Strips
Set 1
Set 2
Set 3
Set 4
Set 5
Set 6



Grantland: Good....Safe....Proven
Humor that Works. tm


---
Testimonials on this and other pages were accumulated over our 25 years of doing business
cartoons for presentations and publications.
© Grantland Enterprises. All rights reserved.
Our business cartoons may not be reproduced without written permission.