50 Change Cartoons to help you alleviate employees' fear of change.
By addressing difficult topics with humor and understanding, cartoons
can ease tensions and make things easier to discuss.
Our Most Popular Change Cartoons on:
Change in General

Reasons for Change

Communicating Change

Resisting Change

"I think your cartoons are great. I used one of your change cartoons, and it was
a big hit with our staff." Gina Smith, Citibank

Additional Change Cartoons
Change Cartoons Set 1
Change Cartoons Set 2
Change Cartoons Set 3
1- Panel Cartoons on change: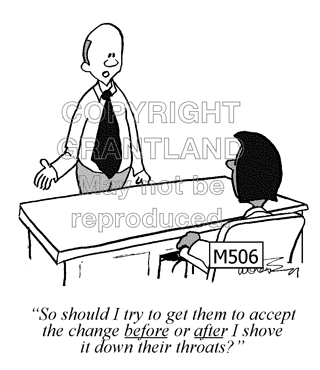 Grantland: Good....Safe....Proven
Humor that Works. tm


---
Testimonials on this and other pages were accumulated over our 25 years of doing business
cartoons for presentations and publications.
© Grantland Enterprises. All rights reserved.
Our business cartoons may not be reproduced without written permission.