250+ Safety Cartoons w/ Safety Tips
GRANTLAND "combines creativity and humor with important topics and issues."
Sharon Mansfield, Georgia-Pacific
Looking for great safety reminders? Our cartoons combine safety tips with images and humor. They're designed to reach employees who ignore standard safety messages.

Keep Safety Fresh!tm
Use Safety Cartoons.
(Small business and volume discounts available.)



Our safety topics are listed below. Click to view the cartoons:
Top Safety Cartoons by Category
General Safety(2 pages)
Confined Space
Driving Safety
Electrical Safety
Equipment Safety
Ergonomics
Eye Safety
Fire Safety
First Aid
Forklift Safety
Hard Hats & Other Protective Gear
Hazmat
Hearing Safety
Ladder & Scaffold Safety
Lifting Safety
Office Safety (2 pages)
Repetitive Stress
Slipping, Tripping, and Falling
Tool Safety
Miscellaneous Safety (2 pages)
We also a number of Safety Cartoons in Spanish


See also
Violence in the Workplace
1- Panel Cartoons on Safety: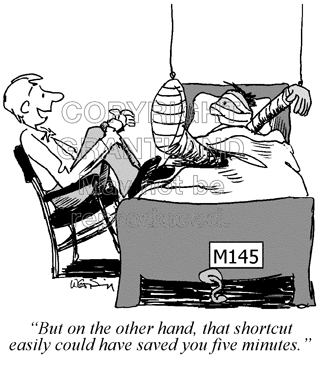 Grantland: Good....Safe....Proven
Humor that Works. tm


---
Testimonials on this and other pages were accumulated over our 25 years of doing business
cartoons for presentations and publications.
© Grantland Enterprises. All rights reserved.
Our business cartoons may not be reproduced without written permission.