50 Leadership Cartoons to Use in Your Presentation or Publication
Want to support and reinforce your leadership program? Try our leadership cartoons -- they can be the perfect vehicle for getting your points across in a non-threatening manner.

Our humorous - but serious - approach to issues like vision, motivation, and listening provides a great way to enhance your leadership development.


Our Most Popular Leadership Cartoons:
Leadership Set 1
Leadership Set 2
Leadership Set 3

"We have enjoyed GRANTLAND and have been able to find one
cartoon relating to most any topic we have looked for."
- Barry A. Berglund, Center for Creative Leadership


1- Panel Cartoons on Leadership: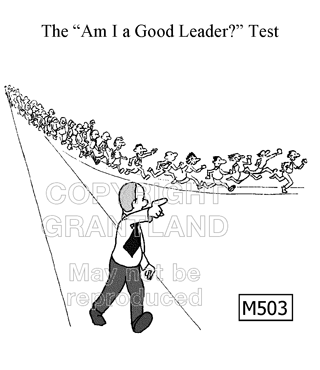 More Leadership Cartoon Strips
Set 1
Set 2
Set 3


"...but if you're not a leader, you're just a boss."
Cartoons on Being a Boss



Grantland: Good....Safe....Proven
Humor that Works. tm





---
Testimonials on this and other pages were accumulated over our 25 years of doing business
cartoons for presentations and publications.
© Grantland Enterprises. All rights reserved.
Our business cartoons may not be reproduced without written permission.