Communication Cartoons
"Since the cartoons are quick and make a point with humor, we're able to reach more of
our associates, who usually don't bother reading the flyers or newsletters."

- Susan Burk, MagneTek
Communication is often at the heart of an organizational problem. Cartoons - combining pictures, words, and humor - provide a unique way to reach people.


11 Most Popular Communication Cartoons

Organizational Communications
Presentations & Reports
Communicating Up & Down

Person-to-Person
Listening

Email
Social Media
Texting

Using the Telephone
Telecommuting
Conference Calls

Writing

Miscellaneous Communication Topics
1- Panel Cartoons on Communication: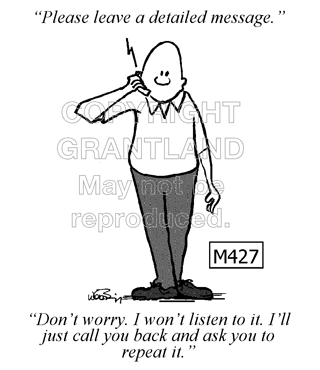 Grantland: Good....Safe....Proven
Humor that Works.tm





---