Top Financial Cartoons
"GRANTLAND often pokes fun at tough issues, allowing readers to have
a good laugh over a potentially sensitive subject."
- Tim Ste. Marie, Unigard Insurance

Use financial cartoons to help your audience understand and accept
the concepts of finance. Cartoons can reach people who
otherwise don't get your messages.

Best Financial Cartoons
Investment Cartoons
Miscellaneous Finance Cartoons
Cost & Cost Control Cartoons
Use cost cartoons to relieve the stress of cost control efforts.

Our Top Cost Cartoons

Additional Cost Cartoons

Budgeting Cartoons


1- Panel Cartoons on Finance: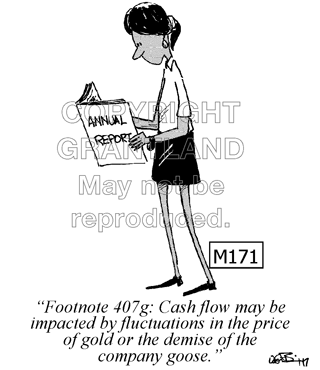 Grantland: Good....Safe....Proven
Humor that Works.tm





---